Last week I summarized what we knew and didn't know about the upcoming 7.0 update. Now we know a lot more and I wanted to provide an update for those still waiting for the update here in the US or overseas and what to look for.
Autopilot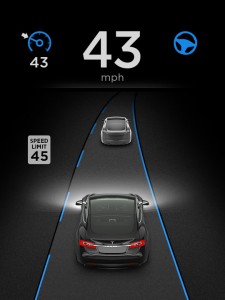 For those with autopilot enabled cars, 7.0 does enable these key features:
Auto park
Auto steer
Automatic lane change
Tesla warns owners to keep their hands on or near the wheel. Also the system doesn't yet recognize stop lights or stop signs so you need to be very careful if using AP on roads with those.
There are a number of videos available covering the new autopilot in action and the various displays and screens. It looks quite exciting and some day i'd love to get my hands on an AP car for a test drive.
7.0 for the rest of us
For owners with cars made prior to September 2014 or those that chose to buy without autopilot, there are still a number of interesting changes in 7.0. The largest and most noticeable change is in the dashboard display:
There are a number of noticeable differences in this display. When I originally covered what we knew about 7.0 I was concerned the non-AP cars would lose the analog speed/energy portion of the dash display but fortunately they remain intact which answers all the questions I had around how they'd show certain things like set cruise control speed, limited regeneration, etc.
The center of the dial is a bit different with a new car display. Whats very cool is things like brake lights, turn indicators, and headlights are animated on that car matching what your car is actually doing. I really like the flat look and generally like the use of space in this new dash design.
A few items have new locations on your dashboard display.
A few items have moved around like your battery meter (in percentage or distance depending on your preferences) as well as your gear indicators. I like the fact that Tesla has de-emphasized the battery/charge level. The old size/position encouraged range anxiety.
Some elements have been lost from the dashboard display.
Other things are now missing from the display. The day, date and time are gone as well is the outside temperature and door lock status. These items are available in various places on the 17″ screen and while you can get some of them back with the new clock widget, its not quite the same. I'd have preferred if they could have found a way to keep that information on the dash display so I didn't have to look over at the 17″ display for them.
Trip A and B information are also no longer available via the dash widget but you get a new replacement trip meter that tracks information since you started driving.
Widgets
The trip widget received a big update and I like what they did. I've always been a fan of the "since last charge" reporting and now I like the idea tracking each trip I take during the day automatically. If I need the longer range trip meters (trip A or trip B) I can go to that screen on the 17″ display. I use my Trip A for my monthly trip details and my trip B for my lifetime numbers.
There's a new clock widget that gives you the time and the external temperature. This is a pretty inefficient use of space on the dash and I may never use this widget. I think it is a poor answer to the information removed from the standard dash display.
The clock widget is a poor solution for information that has been removed.
Generally my left dash display has route information and the right has trip information. I don't want to give either up so the clock is not worth the time…
Noticeably absent from my April 2014 build car is anything related to individual tire pressures. Evidently the hardware to support showing individual tire pressures is also missing on these older cars. Thats another small disappointment as my 2007 Acura MDX was capable of doing that and I was hoping it was just a user interface update that was needed to get it.
Older cars do not get the new tire pressures widget.
17″ Display
As expected the 17″ display got less attention but it was still more than I thought. Elon has implied a lot more is coming in the upcoming 7.1 release when it eventually comes out. Overall the display is flatter and cleaner although icons (both in the dash display and the 17″ display) still have some 3D attributes to them — Tesla didn't go "all in" as Apple did with iOS 6.
The only real update in the 17″ screen I found beyond the cosmetics was the trips section which adds the new current trip information section and a reset button for that counter:
Key touch points have bigger targets for added safety:
While I think making the touch points larger is a good idea, there's a great deal of dead space above and below them which I think is a poor use of screen space.
The area where the audio controls are leaves too much dead space.
Extras
The release notes for 7.0 on my car notably did not cover autopilot features so Tesla is finally providing different release notes to different car builds. Other than visual elements Tesla mentioned two extra additions to my car:
Improved climate controls – This improvement helps the Model S get to right temperature faster while using less energy. What they didn't mention (or change) is how this relates to range mode and if you should/shouldn't use it now.
Torque Sleep, a feature on the dual motor cars, has made its way to the RWD cars and is designed to improve energy efficiency. No mention is made of the expected affect on range. I driving around I found no noticeable difference in the performance or behavior of the car.
Non-AP cars now have Torque Sleep too.
Absent from the extras section is anything on improved Hill Hold that was mentioned in the TMC forums and other places. I took my car for a drive and gave it a test and confirmed there have been no improvements to hill hold for my car. The permanent hill hold would have been a nice feature but it's not a big deal to me that it wasn't part of this update.
Hill hold doesn't change in 7.0 for non-AP cars.
Summary
Overall I really like the update. My favorite parts are the flatter looks, the "live" car view in the center of the dash and the new trip widget for the dash. I'll be missing the temperature and the date/time on my dash for a long time to come though.
Tesla did a great job in providing the autopilot cars the special features they need while not leaving the rest of us totally behind. It would have been a lot easier to ignore the older cars and only update the new ones but Tesla stepped up and took care of us and for that i'm grateful.
Elon mentioned that 7.1 will have a larger update for the 17″ and i'm looking forward to those changes too. While it's always hard to please everyone when you make changes like this, Tesla is moving us all forward and changing the way we think about cars and how we control them.